Six little things we loved at London Fashion Week
There are simple pleasures to be found aside from the outfits, the celeb spotting and the rush of the spring/summer 2016 shows, that don't require a ticket …
 1. Brunch and blowdrys
Some of the best things about London Fashion Week are the free exhibitions, people watching, and the hair and beauty pop-ups. We turned up at Sketch (the beautifully bonkers Mayfair restaurant with the Krypton-like pod loos ) early Saturday morning, hungover and with bed hair, and left an hour and a half later with glossy plaits and breakfast in our bellies.  The lovely girls at Four London have taken over the gorgeous Glade room downstairs and for £25, you get your hair styled as you nibble on croissants. It's open from 8.30am until 11am until Tuesday.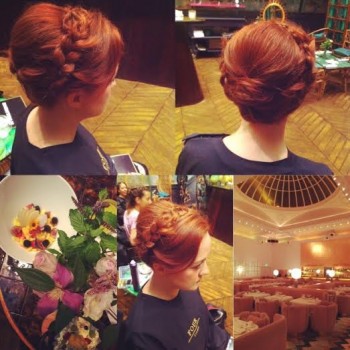 2. Asking for a 'hun'
Half down, half bun, the hun is this LFW's most popular up-do request, so said our hair stylist at GHD on Dean Street, where they're doing 'Tame the Frizz' appointments, plus juice or cocktail, for £15 until Tuesday. Book online at yplanapp.com
3. The free rides
Travel the city like an A-lister in your own, complimentary black cab. Download the Gett app, and use the code GETT30, for £30 credit.
4. Trying a Crosstown doughnut
This corner of joy opened in Soho, the new home of Fashion Week, in the spring, serving sea salt caramel and banana ones, peanut butter and berry, and a crème Brûlée one stuffed with vanilla custard. They're open until 11pm on Friday and Saturday nights and helped prime us for more cocktails.
5.  Exploring Minnie: Style Icon
An exhibition dedicated to the most stylish of Disney characters opened on Dean Street for two days only, and explored her influence on fashion from Madonna sporting mouse ears in Tokyo in 1987, to Chanel Iman on the back of an elephant for Vogue Germany.
6. Meeting the new fashion critics
Another highlight – watching our taxi driver type on his phone to a mate, as he chatted to us: "Just picking up some more people from Bad Fashion Week. State of them all – gets worse every season".
You can still buy tickets for London Fashion Weekend, starting at £20, it runs from September 20-24.
 Read Style Me Red's report from the Julien Macdonald show, here.