Upstyle Club
Do you want to dress beautifully without harming the planet and making wasteful fast fashion choices?
I help people to express their stories through fashion, too. 
As a sustainable personal stylist, I love encouraging people to look at their clothes in a new way. 
In 2019, after six years working under my brand Style Me Red, I decided to relaunch as Upstyle Club. (A new website is coming soon, but in the meantime, you can follow me for tips on Instagram.)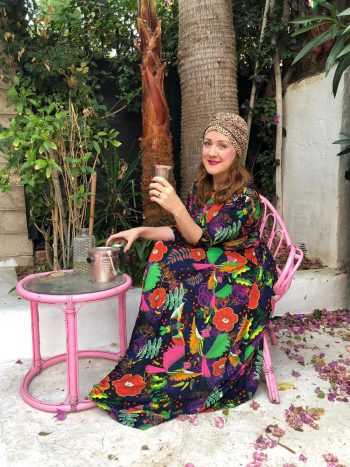 I've always loved second-hand clothes and run wardrobe workshops, but for years I'd been guilty of mindlessly buying fast fashion, and helping my clients to do the same.
I didn't want to do that any more. You can find out a bit more, here, in this piece I wrote for Wales Online.
As a sustainable fashion stylist, I work with clients to Upstyle what's already in their wardrobes, and to swap their fast fashion fixes for responsible choices, via pre-loved or sustainable brands.
I'm a huge fan of second-hand and vintage clothing and am on a bit of a mission to change people's minds about charity shops as a source of luxe styling.
On a [currently online only] styling session from your home, you'll learn how to put together sleek, stylish looks, using your own items. And if you have any gaps – I'll help you to fill them in a way that's more compassionate to the environment and to the people who make our clothes.
I've created red carpet looks for BBC news presenter Sian Lloyd, West End performer and The World's End star Sophie Evans, and classical crossover singer Camilla Kerslake, and presented fashion events and videos for clients including St David's shopping centre, Breast Cancer Care and Careers Wales.
My priority is to help people look and feel great and I won't say you can't wear your favourite colour – I think dressing up should be fun.
Our sessions can be flexible to your needs, timescale and budget. 
I'm available for online wardrobe workshops at your home, and online styling parties.
You can see what some of my clients have said about how I've helped them, here.
Want to chat and find out how we can work together? Drop me an email at clairefrees@gmail.com
NOTE: Due to Covid-19, I am not currently running the usual at-home appointments or thrift shopping sessions.
But you can still enjoy an online wardrobe session, starting from 1-hour appointments.
Contact me for details on digital styling from the comfort of your home, or buying a voucher now to use later.
X