Bikinis, a rooftop party, and Mollie Saturday on the catwalk…
Style Me Red was invited to the launch of Resort 2014: Odabash Macdonald Collection this week.
The glamorous event took place on the roof of the ME hotel on the Strand, as models glided around the 'Ibiza-style' party, wearing floor-length kaftans, seventies-inspired once pieces and hand-crocheted bikinis.
Mollie from The Saturdays opened and closed the show (look closely in the background and you can see my ginger head), as guests drank St Barts Mile High Margaritas (Cuervo Gold, Grand Marnier, cranberry and lime, if you're making one) and the night made me want to book a week away somewhere hot and glamorous – pronto.
Melissa Odabash, who has collaborated with Welsh designer Macdonald on this capsule beach collection embellished with feathers, chains and crystals, creates swimwear for everyone from Lady Gaga to Cameron Diaz, but has a mainline range here at www.marisota.co.uk/Melissa_Odabash
I'll link to the the piece I wrote for a mag this weekend when it's out (full of beach fashion tips from Julien Macdonald himself), until then, here's the dress Katherine Jenkins told us was her favourite.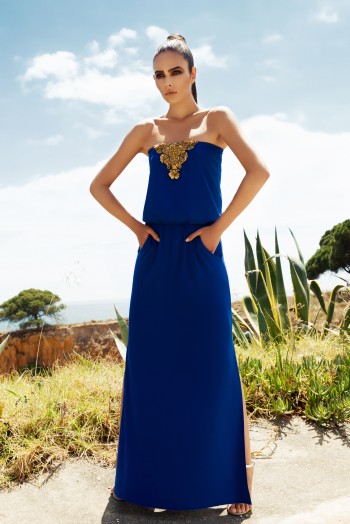 Claire