How eco are your tights? (And my quest for a sustainable Fashion Sock.)
How to buy tights (and Fancy Fashion Socks) responsibly
From sustainable fishnets to outfit-saving 'show socks', here's my pick if you're shopping conscious quality hosiery this winter…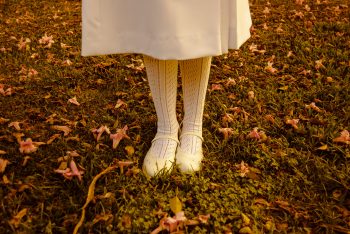 Tights, like cardigans, are an essential part of how we get dressed in the UK – but they're not very sustainable.
No longer crafted from fine silk, since the introduction of nylon fibres in the '30s, most are now made from what is essentially plastic yarn.
So the majority of our tights won't ever break down – producing them is heavy on the planet as nylon releases nitrous oxide – a greenhouse gas that has a significant contribution to global warming. And because it's not suited to natural dyes, colouring the fibre causes water pollution, harming communities in the developing world.
So of course you're wearing the tights you have (because replacing perfectly usable plastic goods with sustainable alternatives makes no sense), but you've got a drawer full of scagged ones and it's 5 degrees outside – what can you do to buy new ones responsibly?
Firstly, recycle the tights you can't wear. Put ripped ones in a bag clearly marked Rags, for your local charity shop – most get paid for bags of unsellable textiles.
Next, remember that good tights cost a little bit extra. That £5 three-pack by the counter probably won't give you many wears – yet it'll be around as waste, forever.
I've searched the internet and here are some brands selling more sustainable solutions. 
PS, style tip: I think a black tight kills a colourful outfit, so there's a mix of print and colour, too…
Tights
Some of the cheapest I've found are by Seasalt, at £17.50 a pair, made from 95% recycled nylon. (I'll take a teal pair for clashing with brights – like hot pink and mustard.) 
These Franziska black ones use a 95% yarn made from castor oil. 
The Legwear Company's 50 denier eco tights are made entirely from recycled materials.
There's a mix of sustainable bamboo viscose and recycled polyester on these sweet navy ones by Thought.
Leopard print lovers – Swedish Stockings say these are 100% emission-free tights, using 93% recycled polyamide. 
Or there's these sustainable fishnets, using eco technology and recycled waste, by Heist.
Socks
I love a Fashion Sock.
For a long skirt that shows a bit of ankle, an elaborate vintage dress, or cropped trousers – I've long relied on the thin, glittery Show Sock. Total footwear Upstyling.
I have some in gold, petrol, silver and bright blue, and wear them over tights for extra warmth.
But my shimmery socks – usually made from metallised fibres covered in polyester – aren't the most eco-friendly.
Eco glitter socks aren't the easiest things to find, and most, even if they use recycled polyester, still contain lurex. Swedish Stockings (see above) have some gold and silver ones. 
Or check out these glitter rainbow ones by Monki. They're made from organic cotton and recycled polyester – so the only waste elements are the 2% metallised fibre and 2% elastane. Not perfect, but better.
No glitter, but these rainbow colours by Ethical Superstore are popping without it – they're made of 75 % bamboo viscose (bamboo grows without any pesticides or fertilisers and uses a third of the water that cotton needs. It also requires less dye.) 
I LOVE these pastel beauties by Maik and they're just £8. Ethically-made in France – using thirsty cotton – but an eco-friendly dye pigment. You decide.
Kind Socks have a good selection, and some handy longer lengths, in 98% organic cotton. My favourites are a bold black and white stripe and a red leopard print.
Top image by Matias Dubini on Unsplash.
NOTE: I've not tried any of the above, and this isn't an advert.