Same Love
Politicians might continue to posture and fight over the rights of two people to have their love recognised by law – but the fashion industry is making its own beautiful and bold case for common sense equality …
A certificate on a piece of paper isn't going to solve it all, goes (loosely) the song – but it's a good place to start.
This week, the Australian Capital Territory became the first part of Australia to legalise same-sex marriage, with parliament passing a bill to allow gay couples to marry inside the ACT (regardless of where you live.)
But the federal government is expected to challenge the move, because it clashes with Australia's archaic Marriage Act.
As the quibbling by powerful people who, for some reason, remain fixated on what others do inside their own bedrooms continues everywhere (the first gay weddings will now happen in England and Wales next summer after months of baby steps, but Northern Ireland and Scotland still hang behind), the fashion industry is stepping up.
Welsh designer Sarah Joseph shot her bridal collection, Retour À L'Innocence, on two females this spring – one wearing a white couture dress and the other, holding her hand in a black tuxedo jacket and skinny ribbon tie.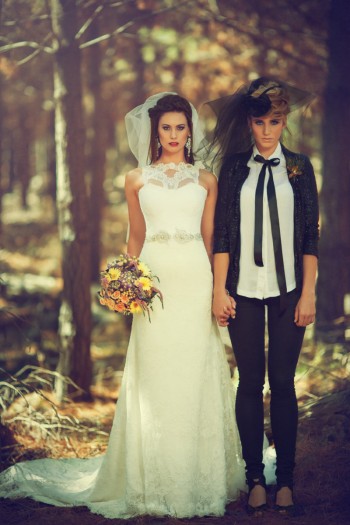 Sarah, who lives in Sydney, via Mumbles, put up the shot on Tuesday after the news in Australia, with the words "Wahooo! ACT passes same sex marriage. Progress."
"I organised this photo shoot to raise awareness of the growing number of countries finally supporting gay marriage," Sarah told us.
"Equal rights should be there for everyone not just for the privileged."
Across the world, as the debate drags on, the fashion world is doing its best to shout louder than the grey suits.
See Karl Lagerfeld's matching brides at Chanel Spring 2013 Haute Couture back in January, and designers from Marc Jacobs to Prabal Gurung tweeting their delight at the news the Supreme Court had quashed DOMA (The Defence of Marriage Act) this summer.
In New Zealand, where same-sex partners were legally able to marry from August 19 (after parliament passed a bill in April), designer Annah Stretton held a competition for two women to tie the knot at her show during New Zealand Fashion Week.
In Russia, not only is gay marriage still illegal, February will see lawmakers debate a bill that could see same sex couples lose custody of their children.
A photo of Tilda Swinton's proudly flying the rainbow flag in front of the Kremlin isn't going to solve it all, but again, a good place to start *
Photo: Sarah Joseph Retour À L'Innocence, by Robert Coppa.
* With thanks to my favourite message in a song for ages, Macklemore and Ryan Lewis' Same Love.