Stylist's own
We took a trunk of clothes and a camera into the late afternoon sun for a game of summer dress-up.
Model Signe chose her favourite pieces from my wardrobe for the shoot – where we played eveningwear against a backdrop of sunshine, cut grass and … an ice-cream van.
It's a shot you see over again as soon as the sun comes out in the UK, but like the ice cream, we couldn't resist. And I like the contrast of the black dress especially, rather than the girlie floral prints you might expect.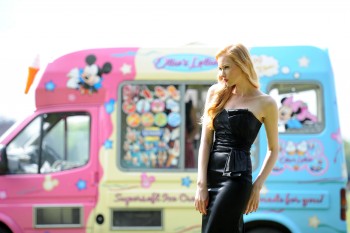 Signe said: "I love the green dress because it reminds me of my mum in the '80s. And I feel like I'm at Glastonbury in the '70s in the floral!"
Ps, she devoured that Strawberry Split seconds after the pic below was taken – and then had a 99.
We knew we liked that girl.
Model: Signe Springe.
Hair: Casey Coleman at Ocean Hairdressing, Wellfield Road, Roath.
Make-up: Natalie Phillips, Bobbi Brown at House of Fraser, Cardiff.
Photos: Matt Horwood.
Styling: Claire Rees (Style Me Red.)
With special thanks to The Albany Hotel pub, and the lovely people with the ice cream van on Roath Rec.
* Are you an independent business in need of fashion photography for your website/lookbook? Contact Claire for more information/a quote on 07815 291140 or clairefrees@gmail.com